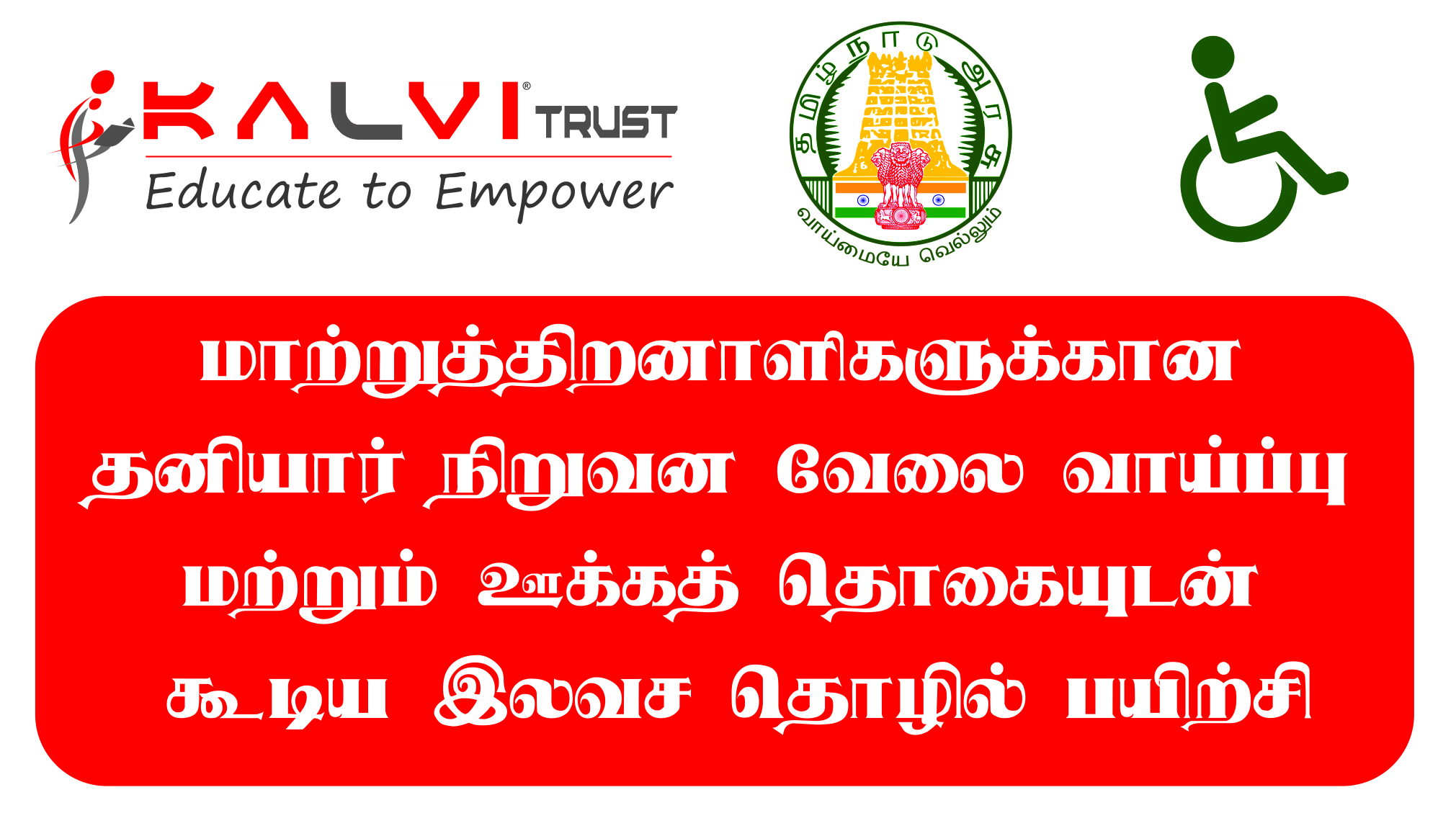 About Scheme :
Tamilnadu Skills Development Corporation (தமிழ்நாடு திறன் மேம்பாட்டு கழகம்) and Kalvi Trust (கல்வி அறக்கட்டளை) are will be Organize the scheme of skills development Training by given teaching (பயிற்சி) on software courses like Computer Hardware, Networking, Animation and DTP works, Website Development etc., to the physically challenged people (மாற்றுத்திறனாளிகள்) who living in Madurai and it's around.
Procedure :
To get training under this scheme, kindly register your name on or before October 31st 2018 at our Kalvi Trust Office. The First 100 physically challenged Peoples are permitted to this scheme. "First come, First Preference".
Before that, you can register at the Educational Institution for Change, Disability, Hearing Disorder, and Deficiency in Eye Care. When registering, physical deficiency should not exceed 40 percent.
To Register (பதிவு செய்வதற்கு)
Identity Card for disabilities (மாற்றுத்திறனிகளுக்கான அடையாள அட்டை)
Aadhar Card (ஆதார் கார்டு)
Community Certificate (சாதி சான்றிதழ்)
Transfer Certificate/Ration Card (ரேஷன் கார்டு)
Passport size Photo
Here are people from the age (வயது வரம்பு) of 19 to 35 are allowed. Male and Female (இருபாலரும்) are allowed. If you have already worked, you can register and submit experience certificate.
When each company announces the job offer (வேலை வாய்ப்பு வசதி), we will arrange an interview for those people who are eligible for that jobs. The multinational corporations and Private Sectors in Madurai directly contact this and offer employment allows opportunities to the recipients.
Or if the participants are wish to get self-employment means, they are advised to start their career and provide training for entrepreneurs under the medium and small business training institution. Provision of equipment for the recipient is given.
Computer Recruitment, Typing Training, Computer Repairs Training, Animations, Tailoring, Photography, and Website Development Training for the 3months (கால வரையறை) Training are provided to registered entrepreneurs. Everyone who participates in the training is provided with accommodation (As per Rules and regulation).
The Tamilnadu skills development offers a Thousand Rupees (Rs.1000/-) per month during Training Period for scholarship (ஊக்கத்தொகை). Our scholarship is also funded by our Kalvi education center. Also, those who are trained here will get a Bus fee (பேருந்து பயண செலவு) for their Transportation.
For Contact: 73970 22262 / 73977 05471/ 73977 03427