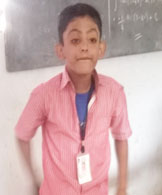 A Case on Special Child
Hariharan, an eight year old boy who is studying III standard in Sri Prasanna Vengatesha Perummal Matriculation Hr. Sec School, Madurai. He is a kind of person who is lacking in a physical and mental competency. He cannot able to contest with other students. But he is very active student in the class. He is interested in learning English. He enjoyably study the communicative English programme providing by our kalvi trust.
Initially he only knew to tell his name and his brother's name and he cannot able to speak clearly if he speaks we doesn't understand what he says. Inspite of this we taught communicative English to them. He started enjoying studying English after he had an interaction with us he started to read and write the words, names and now he can able to make a sentence. He is now capable to answer the question what we ask. The impact of the communicative English programme is now he is volunteering by himself and ask for some tasks to read and and he wanted to be as other students. With all these disabled skill he can try to make himself a confident and brave boy in the class. He learned many new things. This is the success of hariharan. Let our guidance and support will be with him for his improvement and betterment of his life.