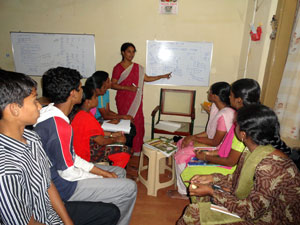 I) Communicative English programme to school children
To develop the communication knowledge among children, we organised the communicative English programme to school children. We are tied up with government and government aided schools. Today's issue among children is lack of communication in English it is a main constraint for their future.so we go to schools and teach them a basics of English grammar, and conduct many motivational activities among children which will eradicate the fear of speaking English.
Children from the section of KG to higher education were covered under this programme
All government schools in the kalvi trust working locations were taken as partner schools for implementing this programme
Qualified kalvi staffs and volunteers were involved in the implementation of this programme
II) Basic computer education
Nowadays the technology is playing a vital role in the economy. With that vision we are conducting basic computer education to the children of the rural area with subsidised amount. Many students were getting benefit out of this. And also we have picked up many government schemes and provide training for the students. It is only for the welfare of the younger generation this may create a new employability skill to them.
All kalvi working locations are has well equipped computer training classrooms and computer labs, which is highly utilise for this programme and other programme purposes
School children from the surrounding of kalvi working locations will be organised in the evenings and weekends for this programme of providing basic computer education
Kalvi trust also provides volunteers and staffs to support and implement this programme in rural government schools which will be a value added support to them


III) Awareness programmes – world girl child day, science day, students day
We kalvi trust has organised the awareness programmes regarding the world Girl child day, science day, student's day . It focuses on sensitising the target group on the above mentioned themes. This programme will be conducting with all kalvi locations and villages every year. This awareness programme will continuously insisting and sensitising them towards working on different development programmes and initiatives.
Every year all kalvi trust working locations will organise awareness events on the important days in their office premises and also in network schools, gram panchayat institutions, etc to serve the purpose and also to build higher level of rapport with the community