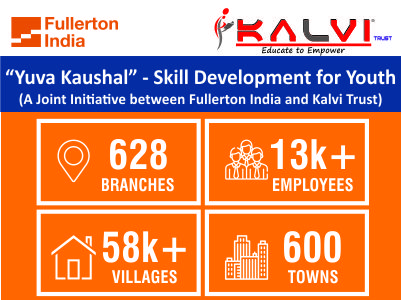 Fullerton India - An Overview
Since its launch in January 2007, Fullerton India has successfully and strongly established itself, spread across the country's broad financial landscape, with a network of over 626 branches that serves over 2.8 million customers.
Our primary services constitute financing of SME for working capital and growth, loans for commercial vehicles and two-wheelers, home improvement loans, loans against property, personal loans, working capital loans for urban self-employed and loans for rural livelihood advancement, rural housing finance and financing of various rural micro enterprises.
Working together with over 13,000 employees, we reach our market by connecting with millions of customers, be it in cities, towns or villages, right at their doorstep. We penetrate deep inside the market through more than 626 branches, covering 600 towns and approximately 58,000 villages.
Fullerton India Credit Company Limited is a wholly owned subsidiary of Fullerton Financial Holdings Pte. Ltd., which in turn is a wholly owned subsidiary of Temasek Holdings Pte. Ltd., Singapore. Fullerton Financial Holdings invests in financial institutions in emerging markets with its prime focus on Business and Consumer banking.
CSR with Fullerton Kalvi's way
Kalvi Trust has been involved in various skill development programes more than a decade in the state of Tamil Nadu. Presently, we have trained more than 25,ooo candidates through 08 different skill training programs associated with state and central government of India. Kalvi is a leading group of company have been expertise in the education industry specific to skill development in various sectors such as IT-ITEs, Electronics, BFSI, etc.
Kalvi Trust has associated with fullerton india towards implementing their key program of CSR activity called Yuva - Kaushal. Kalvi Trust has become the authorized partner to implement the Gurukul Project in Tamil Nadu specific to the location of Madurai District. Kalvi has been involve in the process of program such as mobilisation, orientation, student selection, training and development - Technical domain and Value added domains, placement, and post placement support.
Gurukul - Skill Development for Youth
Background
India has one of the youngest populations in the world. The bulk of the labour force in India, about 93 per cent who work in the unorganized sector are largely untouched by any kind of formal training. It is primarily the youth in India who needs to be targeted for skilling and up-skilling.
Fullerton India as a part of its Corporate Social Responsibility is committed to bridge this skill gap and has initiated an exclusive project for 'Skill Development for Youth'- Gurukul. The project is conceptualized with the motto to equip these youths with 'skills and knowledge' that are adequate to secure an entry level jobs in banking and finance sector. The project was launched in FY 16 and operational in the states of Bilaspur (Chhattisgarh), Coimbatore (Tamil Nadu), Cuttack (Orissa), Jodhpur (Rajasthan), Tuljapur (Maharashtra) and Shimoga (Karnataka). These six centres are fully operational and on an average of 1500 candidates are getting rained every year with a placement ratio of 70% among the leading financial sector institutions.
In this context, FICCL had planned to expend its Gurukul centre to a new location in Tamil Nadu and will partner with Kalvi Trust to set up Gurukul at Madurai, Tamil Nadu. This Gurukul Center will train 350 youth, aims to enhance the socio economic development of their families in a sustainable manner.
About programme
The 180 hours training is spread across, over a month where the training not only limits to sharpen the technical skills but also provides an in depth training to strengthen the soft skills and along with personality and confidence building. During the tenure of training (training in class room and on job training of Shortlisted candidates by FICCL) candidates would be provided with boarding & lodging to ensure the effectiveness of the training. The mock tests conducted will enable candidates to clear the assessments with accuracy and speed.
Process:
The proposed Gurukul programme will follow the process as mention below:
Finalization of centre at mutually decided location
Appointment and certification of Trainers
Launch Event of Gurukul Centre
Mobilization & Screening of candidates
Training of candidates
Assessment of trainees
Placement drive / recruitment drive
Certification/ Graduation Ceremony
Project Description
Target : 350 Youths
Duration : One Year
Location
District : Madurai
State : Tamil Nadu
Eligibility Criteria
Preferably male with below eligibility criteria:
Age group- 20 to 27 years
Education- Graduation
Candidates must have driving license & two wheeler
Candidates shall be mobilized from Tamil Nadu (as per the priority areas shared)



Key Benefits to the Candidates

Training on Financial Management in NBFCs
English and Placement Training as Value Additions
Fullerton India Certification
Cambridge Linguaskill Certification
Training and Accommodation with Food at free of cost
Placement in Banking and Non-Banking Financial Companies
Minimum Entry Level Salary: Rs.12,000/-
Incentive: Starts from Rs.15,000/- per month